Stand Out in Red: Our Top Picks for Bandage Dresses
Introduction
Nothing makes a statement quite like a bold, red bandage dress. Perfect for special occasions, nights out, and events where you want to turn heads, a red bandage dress is a wardrobe essential. In this article, we've handpicked our top selections for the best red bandage dresses on the market. So, let's dive in and find the perfect red dress to make you stand out from the crowd.
The Classic Red Bandage Dress
The Classic Strap Red Bandage Dress
The classic strap bandage dress is the epitome of classic, timeless style. This iconic dress is known for its figure-flattering design, high-quality fabric, and signature bandage construction that Reflect the original classic. Strong elasticity, embrace your body. The classic red bandage dress is a must-have for any fashionista looking to make a retro bold statement.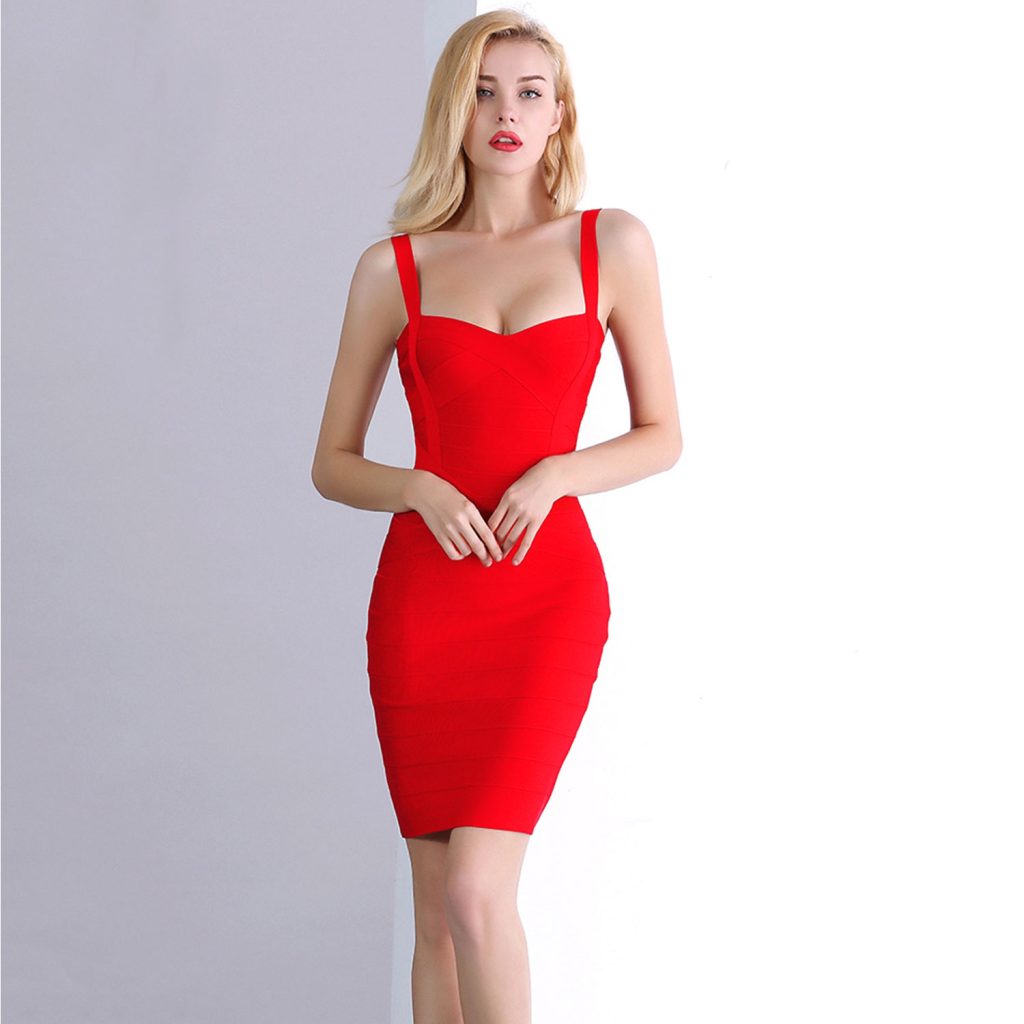 Pictured: Classic Strap Bandage Dress
Sophisticated Elegance
Sequin Mesh + Red Embellished Lace Bandage Dress
For an elegant and sophisticated evening look, sequin mesh + red embellished bandage dress is the ideal choice. Featuring delicate lace overlay and a structured bandage silhouette, this dress perfectly balances sexiness and classiness. Team it with simple accessories for an eye-catching evening ensemble.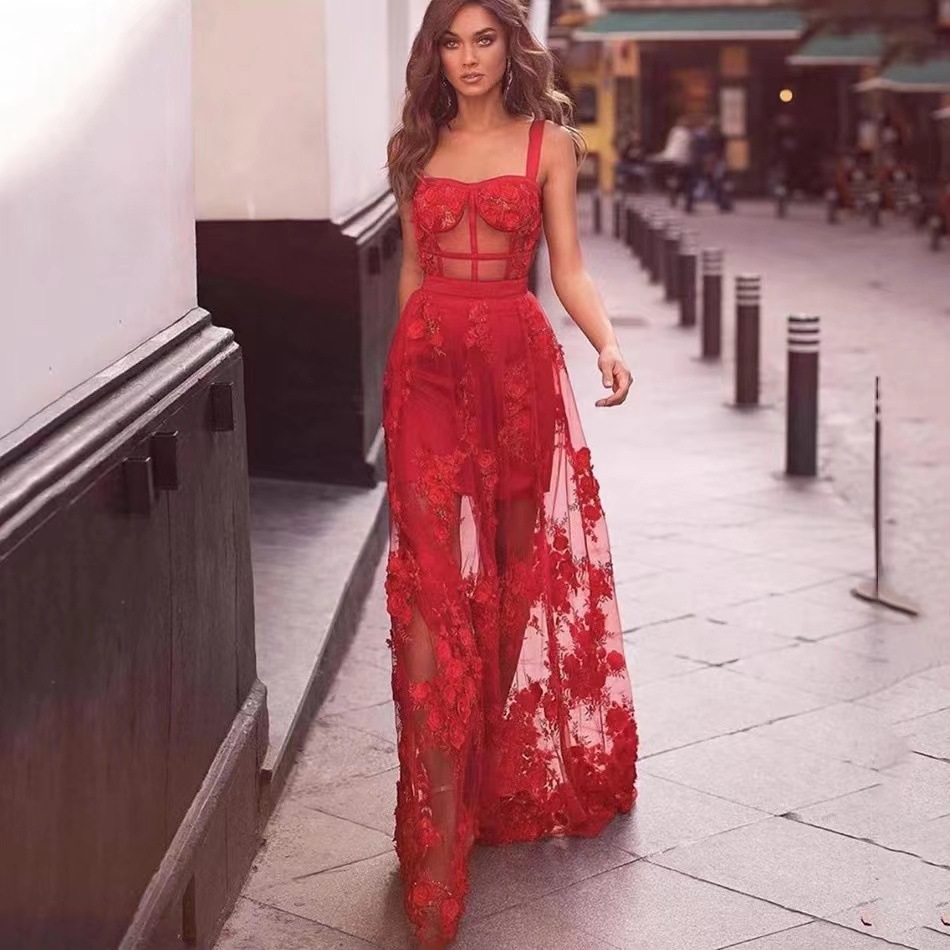 pictured: Lace Embroider Bandage Maxi Dress
Modern and Edgy
The Alexander Wang Red One Sleeve Bandage Dress
Express yourself in style with the Alexander Wang red one sleeve bandage dress. This trendy design boasts daring cutouts and an edgy silhouette ideal for fashionistas. Plus, its fold neckline and mini length add extra sophistication to this avant-garde garment.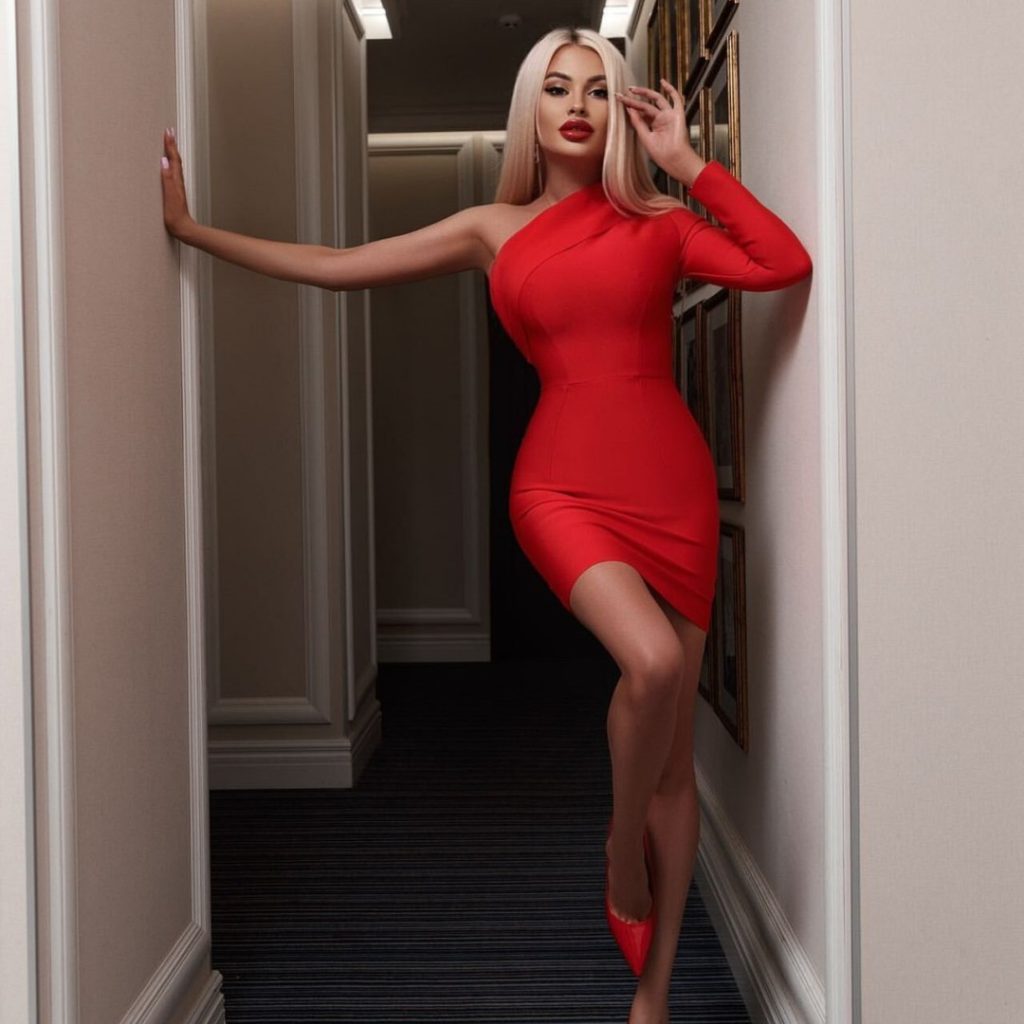 pictured: One-shoulder Bandage Dress
Flirty and Fun
The Joa Feather Asymmetrical Bandage Dress
Feast your eyes on this playful dress, which features a subtle, luxurious touch with rhinestone embellishments adorning the neckline. The hemline incorporates red feathers, giving it a lively, spirited appearance reminiscent of a vivacious bird. This dress is absolutely brimming with flirtatious charm.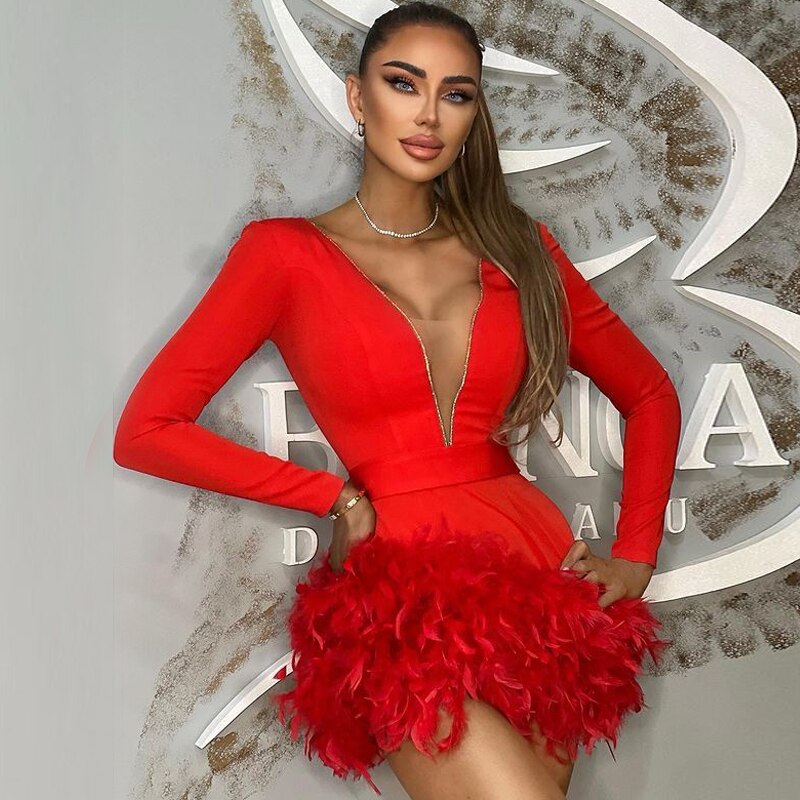 pictured: Joa Sexy Feather Asymmetrical Long Sleeve Bandage Bodycon Dress
Luxury Red Bandage Dresses
The Balmain Crystal Beading Fringe Backless Bandage Dress
Looking to splurge on a luxurious bandage dress? Look no further than the Balmain Crystal Beading Fringe Backless Bandage Dress. This high-end design boasts diamond chain tassel and an large backless that sets it apart from other bandage dresses. This stunning investment piece is sure to turn heads wherever you go – be it casually around town or at an important event. The Balmain bandage dress is sure to please any style enthusiast!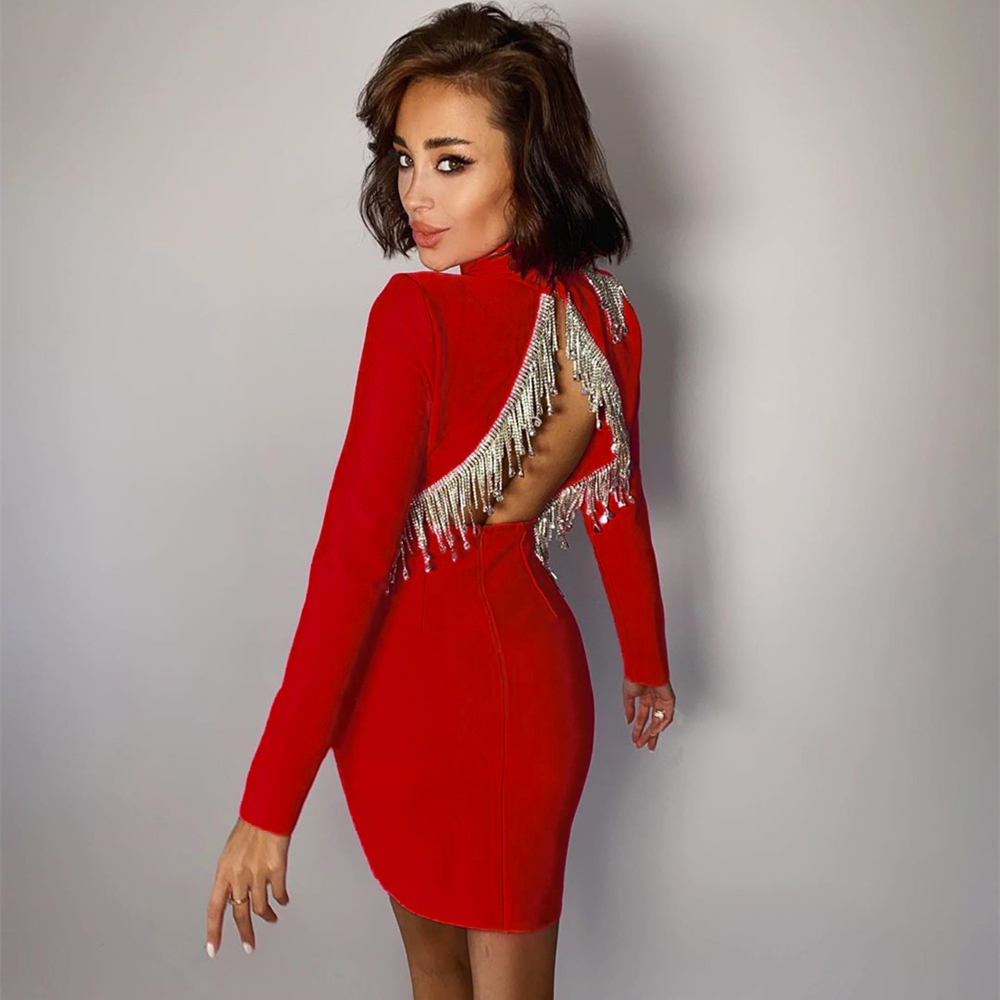 pictured: Crystal Beading Fringe Backless Bandage Dress
Budget-Friendly Options
The Deep V Long Sleeve Red Ribbed Bandage Dress
For those on a budget, the deep V long sleeve red ribbed bandage dress offers style and affordability. This chic dress features a ribbed texture and a flattering bodycon fit. The midi length and long sleeves make it a versatile option for a variety of events.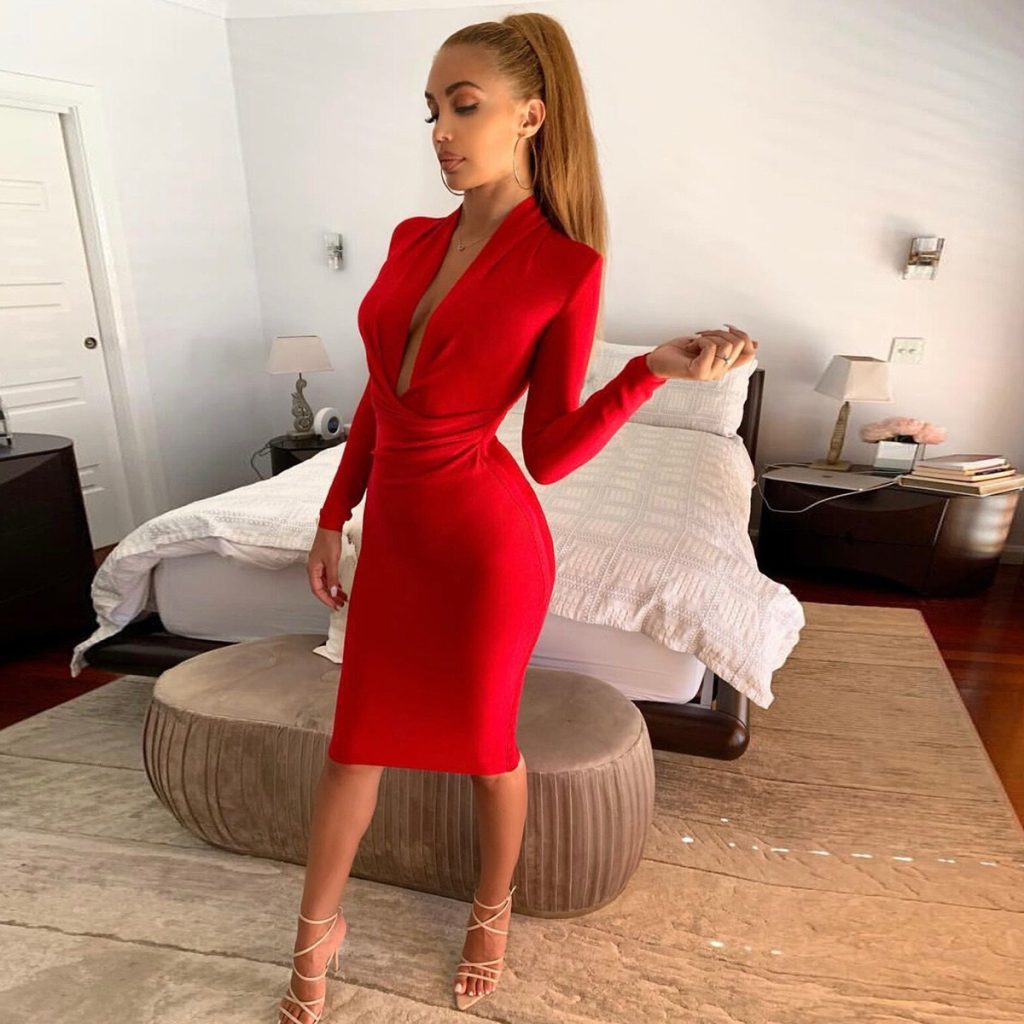 pictured: Deep V Long Sleeve Red Ribbed Bandage Dress
Conclusion
No matter your personal style, budget or body type, there's a red bandage dress perfect for you. From classic designs like the Herve Leger dress to edgy options like Alexander Wang cutout dress, these top picks will help you stand out in red at your next event.